Let's be honest – there's nothing more amazing than sitting alone in your room with the headphones on and getting lost in the music.  It is a personal experience that cannot be described to those that have yet to find a connection with music.  The second best thing – EVER – is being able to share that music with someone else.  So, if you feel like grabbing some vinyl and heading over to a friend's pad to share the musical love, then you'll need the perfect turntable to do so, right?  'Tween you and me, nothing says 'boring' like pulling an iPhone out of your pocket and playing somebody some digital files you've got stored in there.  Hey, I've got nothing against the iPhone – I have one myself – but if you really want to impress people, bring over  a stack o' records and a VINYL STYL™ GROOVE portable 3 speed turntable and you'll be the king of cool in no time.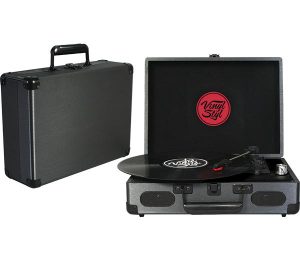 With a variety of designs to choose from, the GRAPHITE turntable is a beauty and most certainly one of the best sellers here at VINYL STYL™.  It has a 'shine' to it that reflects the love, care and tunes that leap from its speakers!  And really, it is absolutely perfect to take with you anywhere you want to hang out and play records. Or, you can just sit in your room and enjoy it yourself.  The important thing is the music and VINYL STYL™ knows that. We wouldn't put our name on anything we didn't believe in.
The VINYL STYL™ GROOVE portable 3-speed belt driven suitcase turntable is the perfect way to enjoy your favorite vinyl records, whether this is your first record player or you are rekindling the passion for analog, the VINYL STYL™ GROOVE turntable is sure to provide hours of listening pleasure.
The VINYL STYL™ GROOVE portable turntable comes equipped with two full range stereo speakers, stylus with protective cover, 3.5mm headphone output jack, RCA outputs and a belt driven platter allowing you to choose from 3 speeds; 33 1/3, 45 & 78 RPM.
Gather up the latest releases or go out and dig for some vintage vinyl, either way the VINYL STYL™ GROOVE turntable will be a trusted companion on your analog adventures.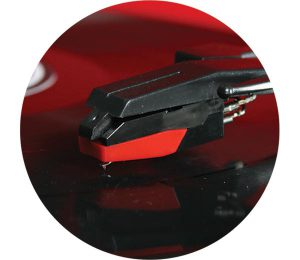 FEATURES:
Vinyl Styl™ Groove Portable Turntable
Stereo RCA Cable
Belt Driven Platter
Two Full Range Speakers
Stylus with Protective Cover
3.5mm Headphone Output Jack
RCA Outputs – for External Speakers or Connection to Receiver
3 speed – 33-1/3 – 45 – 78 RPM
AC Power Adapter
Record Slip Mat
User Manual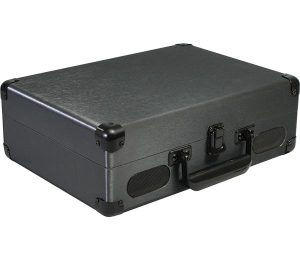 SPECS:
Dimensions of Outer Box: 18″ x 7″ x 13″
Weight: 8.1 lbs